Description
Alpine introduces the iLX-W650E 7" touchscreen display including Apple CarPlay and Android Auto. Crafted with a cutting-edge design and a ultra-shallow chassis allows for easier installations and fitment into a wider range of vehicles.
The innovative dual swipe user interface puts you in control of your music and keeps your eyes on the road. Using two fingers, simply swipe up or down to adjust the volume and swipe left or right to skip between tracks. Built-in connectivity gives you Apple CarPlay or Android Auto to use apps such as Waze Navigation, Google Maps and Spotify music via the convenience of voice command or touch. Plus, the dual camera input allows connection of a rear camera and a side or front camera making parking easier than ever before.
Whats more, the ultra-shallow chassis design makes way to add-on the compact KTA-450 Power Pack amplifier (sold separately) which mounts directly onto the back of the chassis. This revolutionary space saving design, delivers incredible power output and dynamic sound—making the PowerStack duo an industry first and honoured with the prestigious 2019 CES Innovation award.
For any product updates, please refer to the Alpine Australia website only. Visit https://www.alpine.com.au/support/product-updates/ for available updates.
Features
Tuner
Memory Presets: Preset Stations (18 Total; 6 Stations for each band)
Memory: Auto Memory
BLUETOOTH®
Built-in BLUETOOTH® Module
Wide Band Speech Technology
HFP (Hands-Free Profile) Compatible
Streaming Music: A2DP (Advanced Audio Distribution Profile) Compatible
Streaming Music Control: AVRCP (Audio / Video Remote Control Profile) Ver.1.5 Compatible
Advanced BLUETOOTH® Technology
Connection: SSP (Simple Secure Pairing) Supported
Phone Book: Phone Book Synchronisation
Device Name Display
Call History Display: Outgoing Calls / Incoming Calls / Missed Calls
Redial Function
Speech Volume Level Adjustment: Possible for Outgoing and Incoming Volume
DTMF (Touch-Tone) Function
Signal Strength Indicator
Battery Level Indicator
Menu Language Selection: 4 Languages
Made for iPhone®
Music Playback
Available Selections: Playlist / Artist / Album /Song / Podcast / Genre / Composer / Audiobook
Alphabet Search
Artwork Display
Direct Up / Down: Playlist / Artist / Album / Genre / Composer
M.I.X. (Shuffle) Play: Song, Albums, All
Repeat
Battery Charging
Connectivity
Works with Apple CarPlay (requires CarPlay enabled iPhone)
Works with Android Auto (Requires Android Auto enabled smartphone)
USB Media Connection
USB Connection: USB Extension Cable Included
Music Playback: FLAC/MP3/WMA/AAC/WAV compatible
Video Playback: MP4/AVI/WMV/MOV compatible
File / Folder Name Search
Folder Up / Down
M.I.X. Random Play
Repeat
Sound Tuning
Subwoofer Level Adjustment
Subwoofer Phase Select
4V High Voltage Pre-Out
5 Preset EQs
9-band Parametric Equalizer front/rear/subwoofer
5 Channel Digital Time Correction
Digital Crossover Setting
Media Xpander HD
Easy, Step-by-Step Sound Customization
General
7" Anti-Glare Capacitive Touch Display
Shallow Chassis Design 

(6.1cm depth)

Dual Swipe interface technology 

(excludes Apple CarPlay and Android Auto)
3 PreOuts (4V, Front / Rear / Subwoofer)

Dual Camera Input via RCA 

(Rear and side or front cameras)
Clock
Auto Dimmer
Firmware Updatable
Power Antenna Lead
Remote Turn-On
Specifications
3-AMP USB Charging and Input Port
9-Band Parametric EQ / Crossover
40W x 4ch Built-in Amplifier
3 PreOuts 

(4 Volts)

PowerStack ready compatible with KTA-450 Power Pack Amplifier (sold separately)
Screen
Screen Size: 7″
LCD Type: Transparent Type TN LCD
Operation System: TFT Active Matrix
Number of Picture Elements: 1,152,000 pixels (800 x 3 x 480)
Illumination System: LED Backlighting
Effective Number of Picture Elements: 99.99%
Max Power Output Ratings
Power Output: 4 x 16W RMS
FM Tuner
Tuning Range: 87.5 – 108.0 MHz
Mono Usable Sensitivity: 9.3 dBf (0.8 µV / 75 ohms)
50dB Quieting Sensitivity: 13.5 dBf (1.3 µV / 75 ohms)
Alternate Channel Selectivity: 80 dB
Signal-to-Noise Ratio: 65 dB
Stereo Separation: 35 dB
Capture Ratio: 2 dB
MW(AM) Tuner
Tuning Range: 531 – 1,602 kHz
Usable Sensitivity (IEC Standard): 25.1 µV / 28 dBf
USB
USB Requirements: USB 2.0
Max. Power Consumption: 1,000 mA (CDP Support)
USB Class: Mass Storage Class, Play From Device
File System: FAT 16/32
MP3 Decoding: MPEG-1/2 AUDIO Layer-3
WMA Decoding: Windows Media™ Audio
AAC Decoding: ACC-LC format ′′.m4a′′ file
FLAC Decoding
Number of Channels: 2-Channel (Stereo)
Frequency Response: 5 – 20k Hz ±1 dB *Frequency Response may differ depending on the encoder software/bit rate
Total Harmonic Distortion (at 1kHz): 0.008%
DynamicRange(at 1kHz): 95 dB
Signal-to-Noise Ratio: 100 dB
Channel Separation (at 1kHz): 85 dB
BLUETOOTH®
BLUETOOTH® Version: Bluetooth V4.2
Output Power: +4 dBm Max. (Power class 2)
HFP (Hands-Free Profile)
PBAP (Phone Book Access Profile)
A2DP (Advanced Audio Distribution Profile)
AVRCP (Audio/Video Remote Control Profile)
Sound Tuning
Subwoofer Level Adjustment: 0 to +15
Subwoofer Phase Setting: 0° or 180°
HighPassFilter: 20 / 25 / 31.5 / 40 / 50 / 63 / 80 / 100 / 125 / 160 / 200 Hz
HighPassFilter (Slope): Off / -6 / -12 / -18 / -24 dB/oct.
HighPassFilter (Gain): -12 to 0 dB
LowPassFilter: 20 / 25 / 31.5 / 40 / 50 / 63 / 80 / 100 / 125 / 160 / 200 Hz
LowPassFilter (Slope): Off / -6 / -12 / -18 / -24 dB/oct.
LowPassFilter (Gain): -12 to 0 dB
Time Correction: 0.0 – 9.9ms (0.1ms step)
Parametric Equalizer (Band 1): 20 – 100 Hz
Parametric Equalizer (Band 2): 63 – 315 Hz
Parametric Equalizer (Band 3): 125 – 500 Hz
Parametric Equalizer (Band 4): 250 – 1k Hz
Parametric Equalizer (Band 5): 500 – 2k Hz
Parametric Equalizer (Band 6): 1k – 4k Hz
Parametric Equalizer (Band 7): 2k – 7.2k Hz
Parametric Equalizer (Band 8): 5.8k – 12k Hz
Parametric Equalizer (Band 9): 9k – 20k Hz
General
Power Requirement: 14.4 V. DC (11-16V allowable)
Pre Output Voltage (Before Clipping): 4 V / 10k ohms
Operating Temperature: -4°F to +140°F (-20°C to +60°C)
Maximum Power Output: 16W RMS  x 4
Audio Output Level
Preout (Front, Rear): 4V/10k ohms (max.)
Preout (Subwoofer): 4 V/10k ohms (max.)
Weight: 0.92 kg
Chassis Size
Width: 178mm
Height: 100mm
Depth: 60mm
Due to continuous product improvement, specifications and design are subject to change without notice.
The LCD panel is manufactured using an extremely high precision manufacturing technology. Its effective pixel ratio is over 99.99%. This means that there is a possibility that 0.01% of the pixels could be either always ON or OFF.
Apple CarPlay
Apple CarPlay brings your apps to life all through the display. Listen to your favourite music apps such as Spotify or Tidal, plus make calls, get directions with maps, receive messages and see your calendar all while using the display or voice control.
Android Auto
The convenience of Android Auto lets you bring the ever-expanding apps into the dash of your car. From either the display or voice command you can make calls, send and receive messages, play music apps or set a destination via Google Maps or Waze.
Smartphone Navigation 
Apple CarPlay and Android Auto allows the user to effortlessly command directions through voice control, allowing you to get from A to B with an accurate arrival time and turn-by-turn instructions. Plus, make a booking or call ahead with the location contact feature.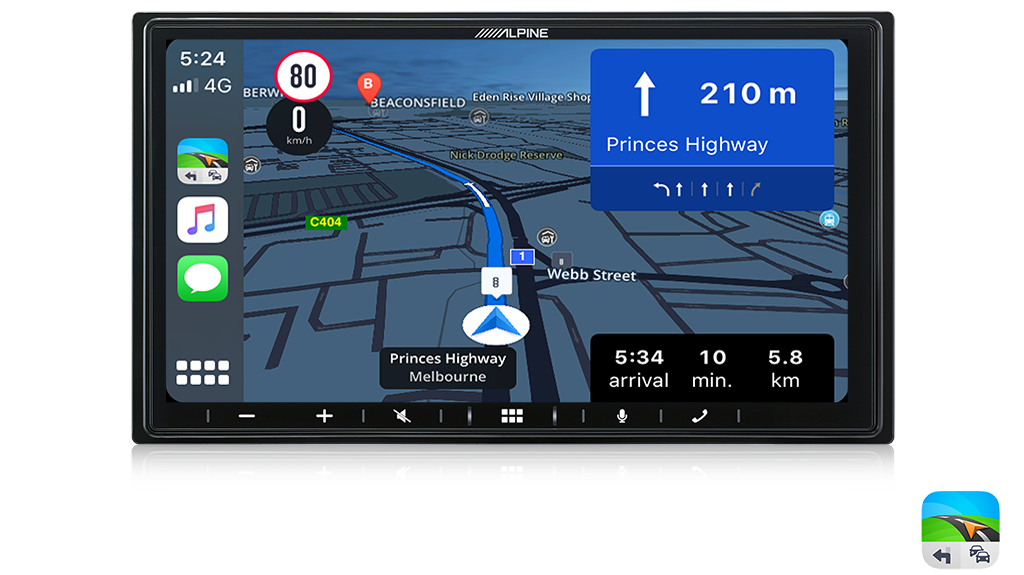 Sygic
The Sygic smartphone app is ready for use with Apple CarPlay bringing an in-car navigation experience to your dashboard. The Sygic app provides off-line maps with frequent updates and handy features such as traffic camera alerts, live traffic, lane guidance, actual speed and speed limits when using the paid service.
Waze
Available when using Apple CarPlay and Android Auto, the Waze app provides a unique navigation experience offering alternative routes to save you time. Waze also provides real time feeds reported by fellow Waze users to inform of upcoming traffic, road hazards, camera alerts and police stops.
Audio Streaming Apps
With Apple Music onboard for Apple CarPlay you have access to 60+ million ad-free songs at your fingertips which you can search genres, artists, podcasts and expertly crafted playlists. With the use of Apple CarPlay or Android Auto, Amazon Music and Google Play Music provides limitless entertainment to stream or download songs from a list of over 40 million ad-free tracks. Amazon Music, Google Play Music and Apple Music are paid subscriptions.
Dual Swipe Interface
The dual swipe design is applied to be user-friendly. A two-finger swipe motion up, down, left or right will control either volume up or down and track skip back or forward. Plus, getting out of the swipe interface is simple by tapping anywhere on the screen to go back to the normal functionality. This is a smart safety feature which allows you to keep your concentration on the road ahead.